Interested in becoming a volunteer? We'd love to have you work with us!
Whether it's with events or around the office, your volunteer work will be greatly appreciated.
You can increase your volunteer experience while making connections at ISSJ!
Information about Volunteering
●Charity Movie Festival and Bazaar
< Due to the recent outbreak of COVID-19, these events have been cancelled. >
We are looking for people to help volunteer with our charity movie event and bazaar!
Preparation Volunteer:
We are looking for volunteers that can come in to our Yushima (Ochanomizu) office every Friday for about 3 months before the movie festival, from 10am to 3pm (time can be negotiated) and help handling tickets, sending out invitations, and prepare goods for bazaar. (transportation fees will be provided)
Delivery Volunteer:
The day before the event, we will be taking supplies from ISSJ's office (Yushima) and transporting them to the event hall (Jimbocho). We are looking for a volunteer with a car that can help us transport the materials (this will take about an hour and a half, since we will make about 3 round trips). In addition, we are looking for a volunteer who is willing to help transport the materials back to the office after the event.
Please let us know if you would be able to volunteer on the day of the movie festival with setup, selling items, or with reception.
Bazaar Volunteer:
Are you creative? Do you enjoy baking? We are looking for volunteers that will donate cookies, cakes, and other home-made items to sell!
We'd be more than happy to have you be part of our team! We look forward to meeting you and working with you!
Contact: ISSJ secretariat Phone: 03-5840-5711 E-mail: issj@issj.org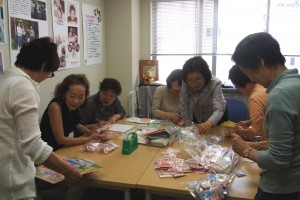 ● Office Volunteer
Entering simple data into a computer, sending pamphlets and other PR related papers, making scans, organization around the office, etc.
● Language Volunteer
Translation and Interpretation needed (Arabic, French, Persian, Thai, Bengali, Sinhala, Tamil, Pashto, Turkish)
※You will be registered as language volunteer and we will call you depending on what language we need at the time
● Internships
We accept interns occasionaly. Please contact us with information on what you will be interested in doing at ISSJ.
Voices of Volunteers
ISSJ's activity is not assisting many children, but help the future of an unhappy child as if her own precious child. I appreciate the opportunity to assist this activity.
I feel happy and grateful that I can participate in this event selling my little handmade hobby goods.
It is valuable for myself and the company to participate in this activity,
It is fun to buy goods or see wonderful handmade goods while helping the event. I would like to participate in again next time.
I found that many people in many ways assist this movie event. I met with many attractive volunteers and learned lots of things. Now, I feel happy to participate in this network of assisting people.
I found that ISSJ's activity is meaningful but needs great deal of energy. I feel happy if I could help ISSJ staffs to work in good circumstances.
I feel happy to strengthen relationship with other volunteers, through traveling, eating together, between volunteering in ISSJ activities. I hope I can help the activity through my hobby, baking sweets
Seeing the presentation of ISSJ's activity at the movie event, the articles and materials displayed at the lobby, I found the activity very meaningful, and wanted to support it.
I hope from my heart the network of helping hand will expand, and to participate as a volunteer as much as I could