New Initiatives during the COVID-19 Pandemic
In light of the increased severity of the COVID-19 in Japan and worldwide, ISSJ is expanding its support for refugees, asylum seekers and immigrants.
Since early April, when the spread of the virus became more serious, we have been receiving a large number of calls from people in need. Although we quickly adopted remote work, we have never closed our office so that we can promptly respond to phone calls.
We first received calls from people experiencing anxiety related to sudden change of their life circumstances, such as fear of unpaid rent or availability of medical treatment for coronavirus infection. Then, as the virus spread and prolonged economic depression, there have been increasing numbers of calls for food aid. At the same time, we have received more and more inquiries from migrant women regarding their pregnancy and childbirth.
The Impact on Refugee Community
We received phone calls or messages asking for help since they cannot rely on their friends or relatives who have supported them but now are suffering from unemployment or a pay cut due to the COVID-19. They said with sorrowful voices, "I cannot ask for support any more because I really feel sorry", or "I hesitate to ask". Although mutual support network in ethnic community has been regarded as quite strong as compared to Japanese society, it is increasingly under pressure.
Impact on Migrant Mothers and Children
Excessive anxiety and stress during pregnancy may seriously impact the development of baby. Lack of information, language barriers, and limited financial resource, makes it more difficult for migrant women to access hospital or public social services on their own, and tend to be isolated until just before the birth of their child.
Children and Education
During the two-month period when Japanese public schools were closed, home education became significant more than ever, which boosted online learning opportunities. On the other hand, some of migrant mothers expressed their feeling of shame since they cannot support their children in the pandemic due to their insufficient language skill for home education and lack of online study environment at home. The existing education gap may further be widened.
In the immigrant and refugee families, parents lacking experience of learning at Japanese school have faced the issue of home education adapted to Japanese school curriculum (see Figure 1). Although there are plenty of educational materials on the Internet, it is difficult for them to choose and make the best use of them due to the aforementioned language barriers. For most of migrant children, school is the only place for learning, however with closure of schools, anxiety keeps going up among parents.
< Figure 1 >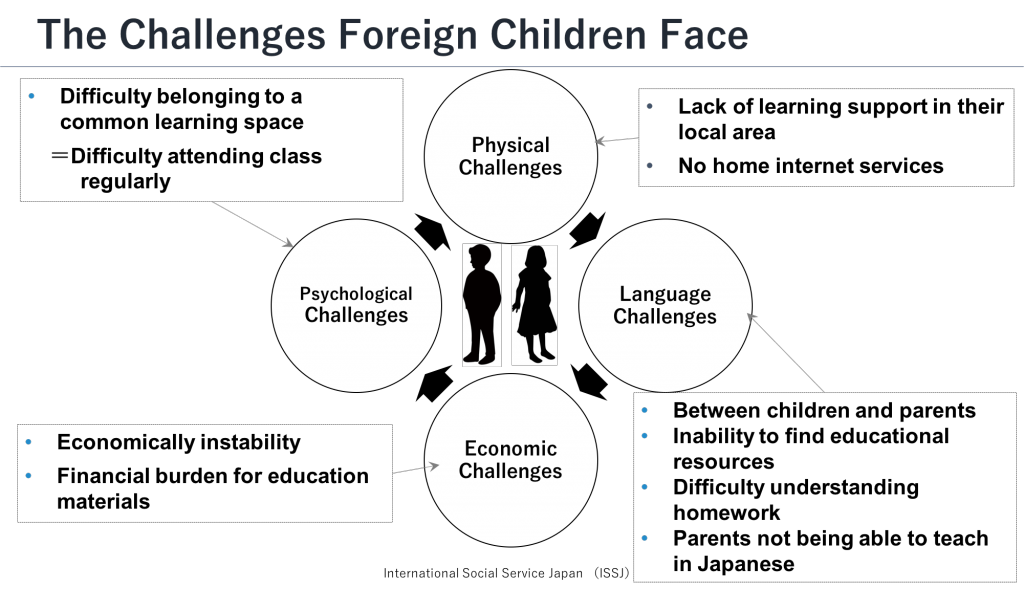 In response to this situation, ISSJ started emergency support focusing on the following four target areas:
Food aid
Medical and social support for mothers and children
Educational support for children
Safety net for those on Provisional Release
1) Food support for the Rohingya community
Target group: The Rohingya community in Japan
Period: June to September 2020
With a grant from the Asian Welfare and Education Foundation, we are providing food aid to refugee communities seriously damaged by the COVID-19 outbreak. In this project, we distribute vegetables and rice to Muslim refugees and Halal sweets to their children.
We directly send the fresh vegetables from the farmers in Chiba prefecture.
Click here to see what happens after we deliver them! Cooking videos by mothers from the community are updated daily on Facebook. Please check them out!
2) Food and medical support for isolated mothers and children
Target group: Needy and isolated mothers and children
Period: June 2020 – March 2021
With a grant from Caritas Japan, we are providing food and medical assistance to foreign residents who are isolated and in need due to the COVID-19 pandemic. This project particularly aims to support mothers and children with regards to childbirth and childcare. We assist with hospital arrangements, childbirth preparation, documentation following the birth of a child, and safe, secure childcare. In addition, we deliver vegetables and rice in order to maintain adequate nutrition.
3) Online home study support
Target group: Children and families of refugees and asylum seekers
Period: July 2020 – July 2021
With a grant from the MITENE Foundation, we are providing online home study support for children of refugees and asylum seekers. This project begins with confirmation of home Internet environment and lending Wi-Fi routers and computers as necessary, followed by connecting children with tutors of university students and other volunteers. With this grant, we will create learning environment where children can continue their study at home with support of network and volunteer tutors.
4) Financial support through the "Emergency Fund for Immigrants and Refugees"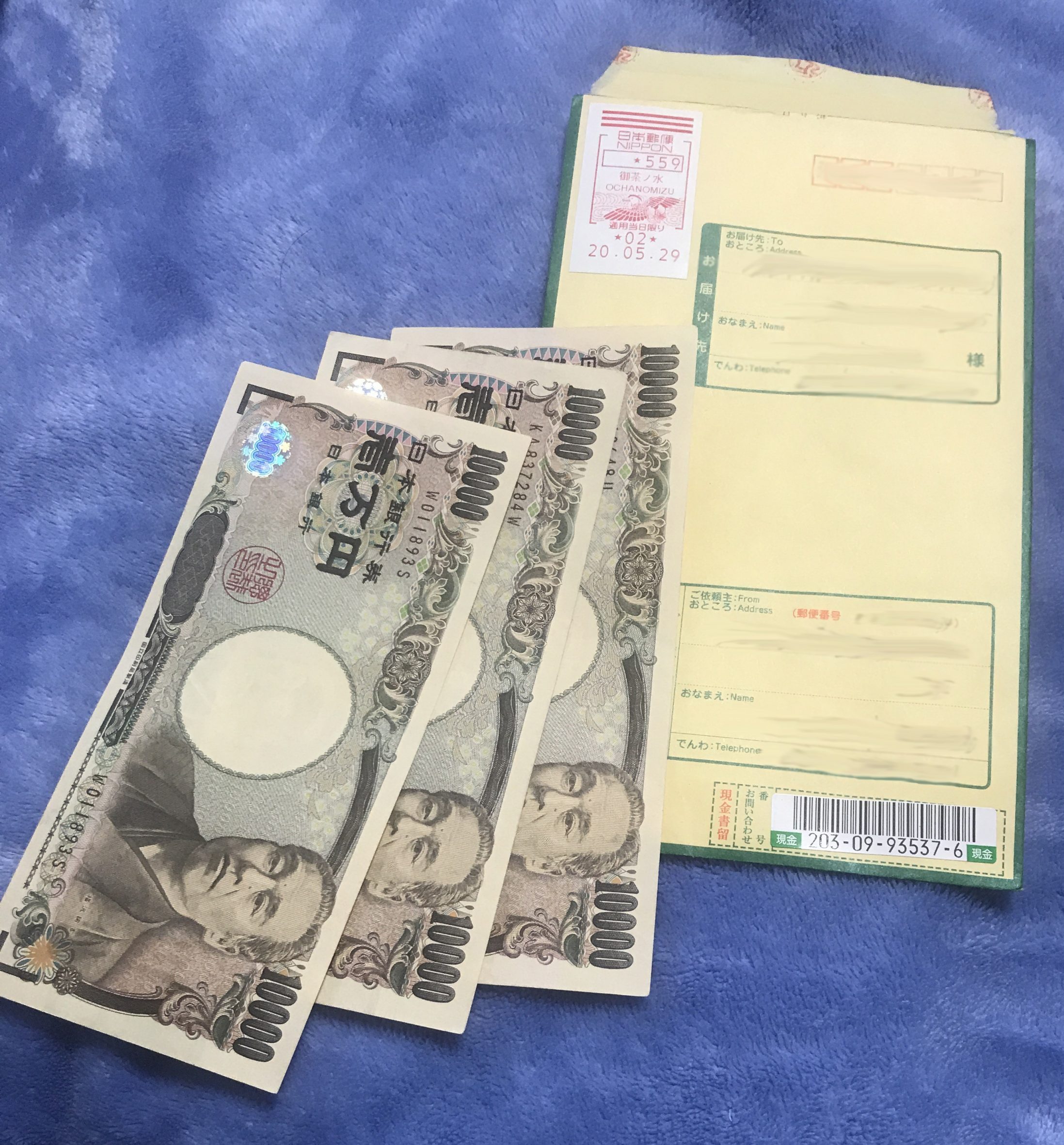 The "Emergency Support Fund for Migrants and Refugees" was initiated by Japanese NPO, the Solidarity Network with Migrants Japan (SMJ). All those who are ineligible for the Special Fixed Benefit provided by the Japanese government can apply for the fund of 30,000 yen per person. ISSJ worked with them as an organization supporting migrants and refugees, and has distributed funds to many people in need.
Below are messages of appreciation from those who received aid.
"Thanks to the funds, I can avoid having our gas and electricity cut off."
"I'm going to run and bring money to the hospital, which has been waiting for my payment!" (These translations were made by ISSJ.)
"Have a nice day.
Well received aid money 30,000¥. 
So glad this is my first aid money
I'm sorry.
Very much appreciate for
delivery in time
tear in my eyes
I would pray for you all that 'The God will protect you from every disaster and pandemic'
Stay healthy and happy family long life.
best regards to everyone in office.
bye for now" (Original text)
ISSJ will continue to closely work with children and families with various backgrounds.
We would greatly appreciate your continued support.