Charity Movie Festival featuring "The Insult" on October 26, 2019
Please join our next Charity Movie Festival featuring "The Insult" (Lebanese movie in Arabic, with Japanese subtitles).
This movie is about how a trivial and personal trouble between the next-door neighbors that can be found anywhere in the world was brought to court, and exploded into much larger disruptive issues intertwined with ethnicity and religion. It draws and questions human dignity that is something you shouldn't miss !
We will also be holding a charity bazaar in which social welfare workshops will participate.
Title: The Insult (2017 Lebanon)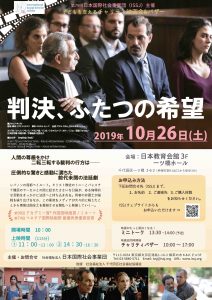 Date: October 26. 2019 11:00-, 14:30-
Mini talk is to be held from 13:30 to 14:00
Charity Bazar will be open from 10:00 to 17:00
Place: Hitotsubashi Hall (Kyouiku Kaikan 3F), Jinbo-cho, Tokyo.
Admission: 1200 yen (Tickets are sold in advance)
For further information please contact issj@issj.org